Results to the fore
Radical rejection of thinking in terms of good/bad is crucial to the CiEP work philosophy. It might seem logical to point out erroneous actions or bad working habits to people, but at the same time it is also counterproductive. Good/bad thinking stimulates 'via the back door' result-inhibiting mental factors. Think about one's inclination towards wanting to prove oneself, to be right, to not wanting to be blamed, to not wanting to be caught making mistakes or the fear people have of loss of face. An approach in line with the 'works well/does not work' concept is, in contrast, emotionally neutral. It is for people much easier still to choose for what works well and thereafter to act so that modifications can be made to the previously chosen route.
People are central
For aliens from another planet it is perhaps rather strange that humans are made the way they are. However, CiEP is based on people and wants to achieve results with people. Even in organizations where CiEP is implemented, people will regularly being doing things that are not in line with a conscious decision about 'works well/does not work'. That is why CiEP has an extensive toolbox to make this behavior visible and to correct it, without affecting the ties that people feel with the organization. In fact these bonds are more likely to be strengthened. The role of organization-wide shared values and exemplary behavior by managers in this respect is very important.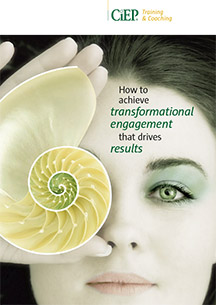 About CiEP
As an individual coaching program, CiEP offers returns in a variety of terrains. Time gain is one example, this generally lies measurably between 10 and 20%. In total this means about half to whole working day per person per week! The time gained is closely tied to a number of crucial plus points inherent to the CiEP way of working. You can think about benefits in terms of:
quality
productivity
transparency
initiative and results-orientedness
Companies and organizations that are going through or have been through a CiEP program, are always talking about having tangibly more pleasure in doing their work,  of improved involvement and satisfaction and a better work/life balance.
A selection of our customers
These organizations in the Netherlands and Belgium use CiEP to match work habits and achieve the desired result: