Working at CiEP
Does everything you read about CiEP appeal to you? Do you think that you could also motivate people and add something worthwile? Perhaps a job as a CiEP coach would appeal to you? 
What do you do as a CiEP coach?
The CiEP-program, is one of the most effective training and coaching programs ever devised. The typical methodology of practice-oriented training and person-focused coaching at the desk means that pattern-breaking results can be booked. With the CiEP-Management System the implementation of CiEP on an organization-wide scale is facilitated, so that there is enduring access to the results of CiEP. The training sessions are led by the CiEP coaches. Although they generally take place in the Netherlands or Belgium, training can also be given abroad where the language used can be Dutch, English, French or German.
What sort of person are you as a CiEP coach?
CiEP coaches constantly contribute by sharing their experience, wisdom, insights and expertise with others, so that they create new possibilities and insights, both for those with whom they are working as for themselves, which invite action. A CiEP coach switches continually between skills training, individual coaching and management advice, A CiEP coach is 100% people- and result oriented. A CiEP can distinguish his or her own limitations and be responsible for the possibility of CiEP even in the face of resistance, opinion, cynicism, skepticism and anxiety. A CiEP coach is CiEP, everywhere and all the time.
Does working as a CiEP coach appeal to you, or you do you have some questions?
Fill in the contact form.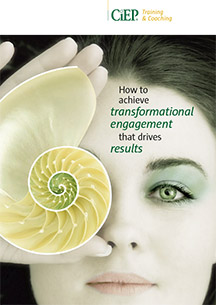 About CiEP
As an individual coaching program, CiEP offers returns in a variety of terrains. Time gain is one example, this generally lies measurably between 10 and 20%. In total this means about half to whole working day per person per week! The time gained is closely tied to a number of crucial plus points inherent to the CiEP way of working. You can think about benefits in terms of:
quality
productivity
transparency
initiative and results-orientedness
Companies and organizations that are going through or have been through a CiEP program, are always talking about having tangibly more pleasure in doing their work,  of improved involvement and satisfaction and a better work/life balance.
A selection of our customers
These organizations in the Netherlands and Belgium use CiEP to match work habits and achieve the desired result: